Studio Notes 30/05/20 - Casting an aluminium coin feels like a giant leap forward with the coin making project, and the start of more good work to come.
As the good weather continued, we got the furnace going again and put the small cope and drag to use, this time casting an aluminium coin.
The coin project has been something that I spent a lot of time either thinking about or working on, and I've documented my first attempts in casting a pewter coin back in 2018 as well as some things I've learned about successful pewter casting.
It feels so strange to look back and see how long I've been at this, especially when I still don't feel as though I've actually finished!
The first time using the small casting flask went well, and I used an old ring mould previously used for frying perfectly round eggs to prevent the aluminium from turning the cope into charcoal this time.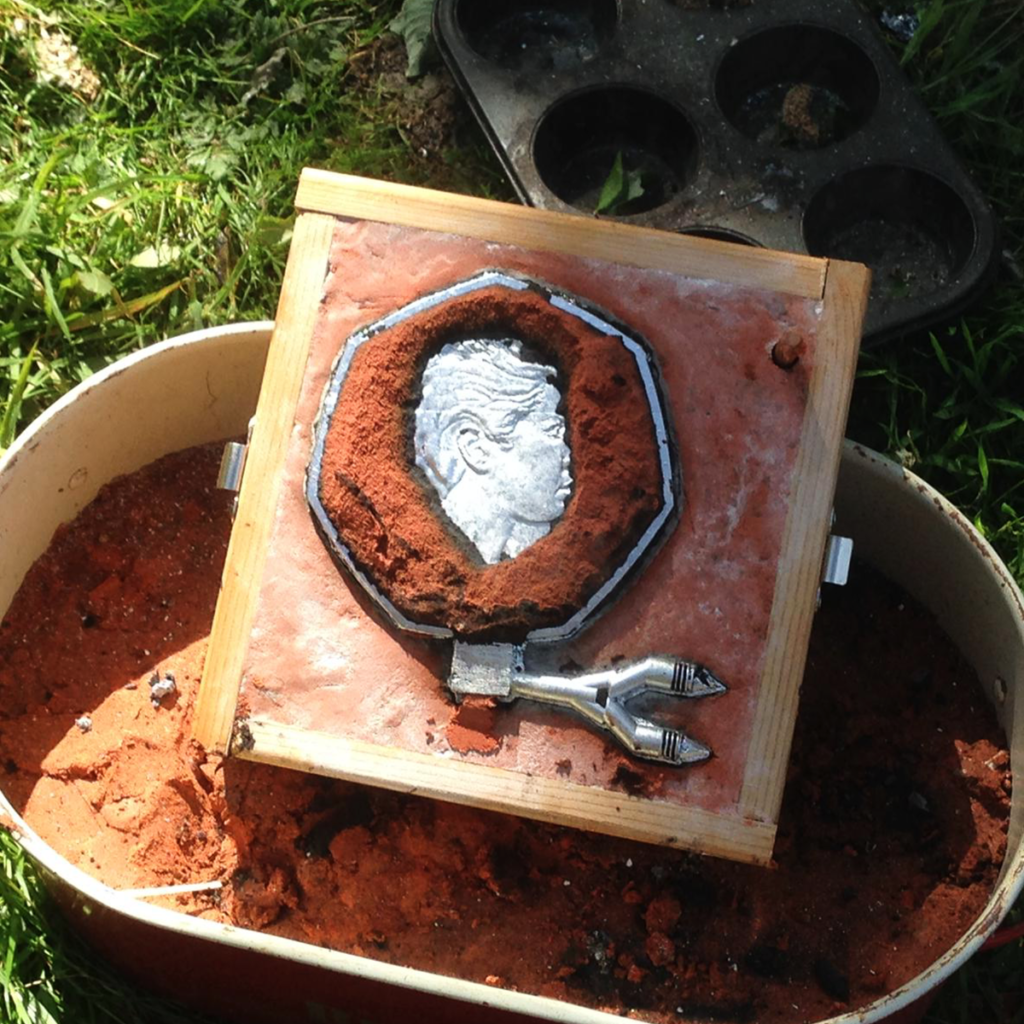 This pour was so much easier, as I'd done all of the prep ahead of time. The problem was that I didn't think the sand had been rammed properly… so why did I go ahead with it? Well, I was exhausted and wanted to see something for my work, and as a first try with the little flask, it was worth it. What we got was so worth it!
I included another of T's arrows, which was a pretty aggressive-looking taser-arrow combo.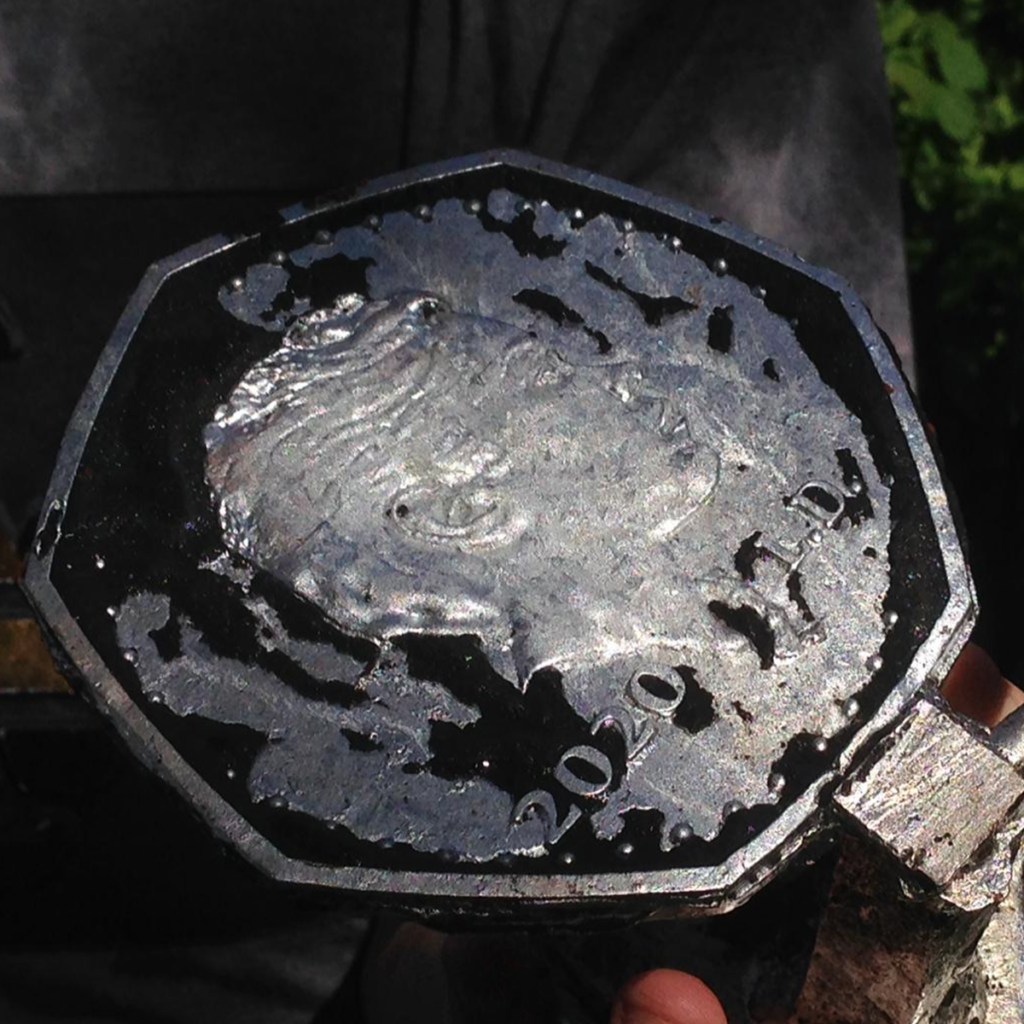 The cope was slightly misaligned with the drag, which meant that the coin and arrow weren't perfect. Still, I was so happy with the result. I haven't bothered to clean it up as I know it's just a stepping-stone, but even so, it stands out as so much better than the coin I designed and cast in 2018.
What do I plan to do with this if it's not going to be the end product after all? Probably make a giant cabuchon for it and turn it into a pendant à la Flavor Flav.
All of the steps towards this – trying out different construction methods, designing the coin in Blender, making the lithophanes… it has all taken me a bit closer. Now my biggest question is, do I commit to aluminium or pewter?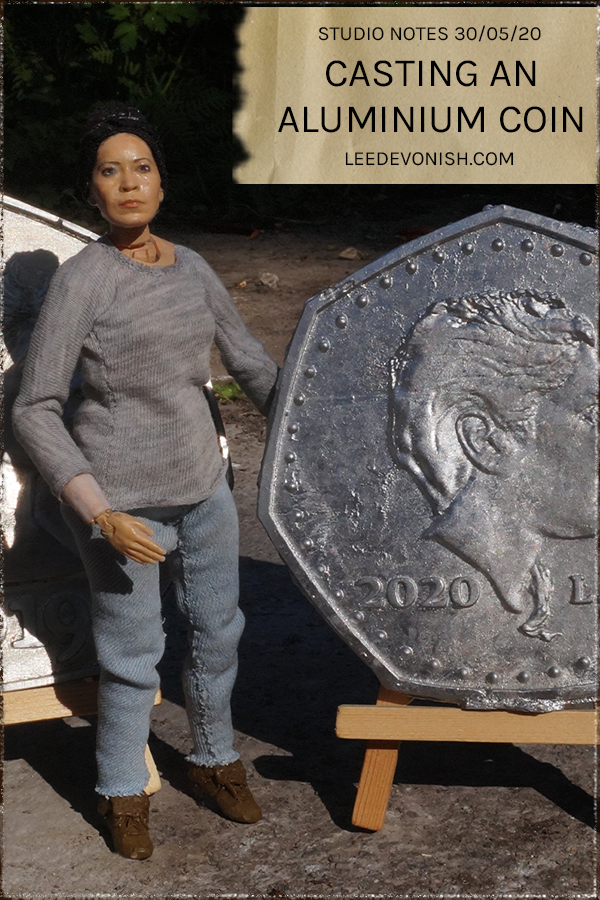 * denotes affiliate links