My name is Lee.
I was always told that I couldn't make a living from my art. I decided not to listen – I pushed on through to follow my goals – starting by moving from Barbados to attend Massachusetts College of Art.
But then one thing got in the way (getting married and moving from the US to the UK), and I dropped out of art school. Then the other thing came along (a baby boy), and all of a sudden I wasn't making any art at all.
I wasn't following anything. I was just letting life happen to me.
The things that got in the way were good, exciting things, but they were still in my way. What was the biggest thing?
Money.
The second biggest?
Confidence.
There was never enough money for me to be able to finish art school, and because I thought of myself as a dropout, I never had enough confidence.
I carried on creating…
Over the years, I did a lot of interesting things: I started a craft business and I sang in bands.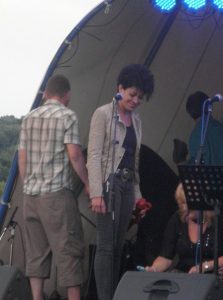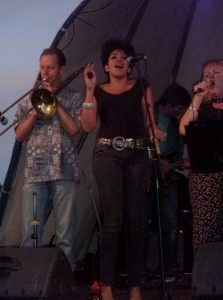 Yet there was some unfinished business in the back of my mind, and I decided to do something about it.
Getting back to Fine Art
I went back to art school as a single mother and finished my Bachelor's degree with 1st class honours.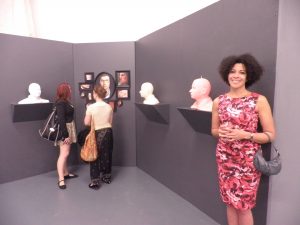 After that, I went even further and did my MA in Contemporary Art Theory at Goldsmiths. I even took my 8 year old to my MA classes because I didn't have childcare. I was constantly tired and worried about being able to pull it off… but I felt so happy at having achieved what I had felt was missing for so long!
Still, I wondered about my place in the art world. I found myself studying with people from all over the world who had come to London for the same course as me, but they didn't seem to need jobs, and they didn't have children to buy uniforms for.
I couldn't apply for artists' residencies. I couldn't apply for the gallery jobs that required weekend work. Was I always going to be stuck in a loop, worrying about not having enough money to make the art I wanted to make?
Breaking out of the loop
After reaching my goals and suddenly facing so much more ground to cover, knowing that I would never fully fit in where I thought I should be, I realised that I was looking at the road ahead in the wrong way.
Artists and writers – we don't have to take the highway. We carve a track through the undergrowth because we love the discovery. People like me, who ride the ups and downs and make the most of it – we make the art that matters to us, we create the practice that suits our lives instead of squeezing ourselves into a stereotypical mould.
 
Art and writing
My work formerly focused on the male form in art, but now it's about several integrated things – feminism, communication and money.
I paint, draw, carve wood and sculpt clay… and I write.
Biography
Born in Barbados, 1979
Lived in  USA 1998 – 2001
Lived in UK 2001-Present
Education
Goldsmiths College UOL – M.A. Contemporary Art Theory (Merit) 2013
University of Kent, Canterbury – B.A. Hons (1st Class) Fine Art 2012
University of Kent, Canterbury – HND Fine Art 2011 (Distinction)
Massachusetts College of Art – 1999-2000
Queen's College, Barbados – 1996-1998
Selected Exhibitions
2014
Making Faces, Chapel Gallery, Ormskirk
Thinking Beyond, Accrington Library, Accrington
2013
Use Him, Level 1 Gallery, Richard Hoggat Building, Goldsmiths UOL
2012
Henwood 8, K College Henwood Campus, Ashford
2011
Pushing Print. Margate
Cork Street Open Exhibition. London
The Associates. Studio 3 Gallery, University of Kent, Canterbury
2010
Ten. The Grand Hotel, Folkestone
Selected Press
2012
a-n Degrees Unedited
2011
a-n Degrees Unedited Blogger Profile.
Cork Street Open Exhibition 2011 Catalogue.
K College Blog. 21st July
2010
Ten. November
Your Home magazine. July
Selected Writing
Review of Red List at Sidney Cooper Gallery
Critical Bastards issue 4
Teaching
After recognising my journey in so many mature students returning to their practice after years of devoting themselves to their families, and also watching young people starting out unsure of what to do next, I'm developing a course to help artists to develop the professional practice and personal finance skills to:
Target and focus on goals
Get control over their money mindset
Promote their work online
Identify and access a variety of income streams
Gain real confidence in their practice
Preregister for the course here
---