This importance of having a blog for your business: here are three reasons why blogging is beneficial for online or offline businesses.
When you run an online business – or even an offline business – being able to get your name out there and market yourself effectively is a huge part of everything you do.

If you're not able to market yourself, then you're going to find it really difficult to remain in business for any length of time and will soon find yourself burned out, not enjoying what you're doing and not having any clients or money come in.

Many business owners make the mistake of believing that simply putting up a website and some social media pages is going to be enough to bring clients in, but that's just the beginning – you have to be actively bringing people to those places so that you can show your expertise.

So, if you've never considered having a blog for your business before or you simply don't know where to get started, then in this post we're going to consider the importance of having one.

It builds authority:
When you have a blog for your business where you're regularly posting content, then you're going to be able to build authority around whichever topic you're writing about, and being seen as an authority in business is ultimately what will help build trust with your audience and lead them to eventually buy from you, so having a blog for this reason is very important especially if you're looking to make money from it in any way.
If you're not sure if your business will be able to create a blog with enough content or what you should be writing about, then take a look online at other blogs such as those like https://www.templafy.com/contract-management/ for inspiration.

It drives traffic:
Although generating organic traffic from your blogging efforts will take a bit of time, the great thing about being consistent with the content you post is that you will start being able to rank higher in Google over time so as long as you're creating original and useful content that's targeting the right keywords that your audience are searching for, then you're going to find that you'll be driving traffic over time as people search for the terms used on your site.

You own the content:
As much as social media is a truly wonderful tool for growing your business and marketing yourself, the fact is that none of us own social media and the content on there technically belongs to the platform we're posting it on.
This means that, for example if Facebook or Instagram were to go out of business tomorrow, not only would your audience go with them, but your content would as well, so it's important that you have other places where you're connecting with your audience, such as through your blog and email list.

You can repurpose the content:
Just because you've posted something once doesn't mean that everyone has seen it, so as you grow your business and more people are coming into your audience it's tempting to think that you need to be creating only new content, but if you think it's useful then you can repurpose existing content to other formats such as podcasts, vlogs, and even e-books or courses that you can then sell for passive income.

Hopefully those points have convinced you that blogging is essential for your business – have a look at some of my other blogging-related articles for more helpful information.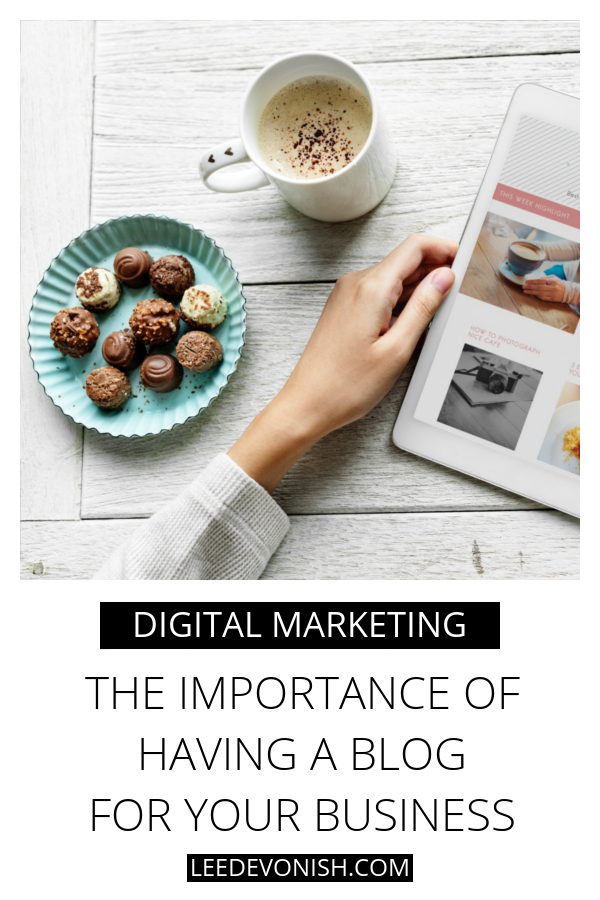 Photos by rawpixel.com from Pexels, altered by Lee Devonish