Studio Notes 04/07/20 - here are the free or cheap Adobe CC alternatives I use, because Adobe Creative Cloud is prohibitively expensive for many artists.
It seems as though everyone has a post about free or cheap Adobe CC alternatives, because that stuff is plain old expensive. So instead of copying someone else's list, I thought I would focus on the ones I actually use and am planning to use, as well as the free or cheap design resources that have helped me.
It isn't just money that you have to invest when you take on new software; you have to factor in the amount of time it'll take you to achieve fluency in the new process.
When I got a chance to use the entire Adobe CC software suite from home for free (due to my job in education), I was tremendously excited, particularly because I wanted to use Adobe After Effects for my stop motion animation. Two months on, I have to admit that I haven't been able to achieve real fluency in any of the programs, and I still used Photoshop more than any other program for my weekly post illustrations.
This level of use doesn't justify paying the crazy rates for Adobe Creative Cloud, so here's what I'm going back to (or planning to move on to).
GIMP instead of Photoshop
I've received snooty comments from others when they've seen me using GIMP, but they don't pay for my Photoshop subscription, do they? As I'm not a photographer or digital artist, and none of my photo editing work is meant for sale or offered as a service, GIMP's pricing – free – is perfect for me.
After the initial learning curve, I gained a level of efficiency with GIMP that I never did with Photoshop, and it was far superior to online apps like Canva.
However, I do plan on moving on to Affinity Photo…
Affinity Photo has a huge following and is affordably priced at £48.99, and I'm more than happy to invest in software that's so worth it. Right now, I've got enough to distract me with setting up a new GIMP workflow in a hurry, so I'm going to wait to learn the ropes with Affinity Photo at my leisure… and maybe when a discount code comes along.
Inkscape instead of Illustrator
Don't get me wrong – I absolutely hate Inkscape. It's free, which is brilliant, but I can never seem to get my head around it, and I don't use it enough to get real practise in, so I end up stuck at the beginning everytime I want to use it, which is usually to create .svg files for my cutting machine.
I'll accept that the fault is mostly my own as I just don't use it enough, and as I used Illustrator even less, there's very little point in my stumping up for Affinity Designer, which is again priced at £48.99.
Audacity instead of Audition
Since getting hold of Audition, I realised that I was very, very happy using Audacity, which is free. So happy, in fact, that I went back to producing my podcast with Audacity.
I'll accept that the fault is mostly my own as I just don't use it enough, and as I used Illustrator even less, there's very little point in my stumping up for Affinity Designer, which is again priced at £48.99.
DaVinci Resolve instead of Premiere Pro and After Effects
As I said, I was happiest about getting hold of pro-standard video editing software, but I can't waste tears over their loss.
I'm going to make the leap to something entirely new – DaVinci Resolve – which has the curious distinction of being both free and, as I've heard, industry-standard. It's based on a freemium model which means you can start off with the free software and then upgrade to DaVinci Resolve Studio for £239.
But before finding out about this, I was using VSDC, which is free. I would have carried on with it, but my experience with the Adobe video editing programs was that the chroma key experience was much better, and I'm hoping to upgrade. Still, it's a solid option.
Scribus instead of InDesign
The truth is, I haven't used this in such a long time… but Scribus is free and worth a look if you need an InDesign alternative.
Blender instead of… well, nothing replaced Blender
Blender blows my mind – it's free and incredible for both animation (which I don't use it for yet) and editing .stl files for 3D printing. All of my 3D printed figures and sculptures have been designed in Blender.
Free or cheap resources
I regularly use these sites for design resources and stock photography:
Creative Market – has 6 freebies every Monday, including fonts, patterns, templates and more. Lots of low-cost, high-quality products available.
Design Cuts – has one freebie every Friday. Again, lots of great fonts, brushes, patterns etc.
RawPixel – great stock photography – lots of them free – with a good range of ethnicities and free photos.
AppSumo – free or heavily discounted software, apps and stock photography, often refreshed and rotated.
I hope these have been of some use if you're after free or cheap Adobe CC alternatives. This YouTube video suggests many of the same products as I have, but goes into some that I've never used myself.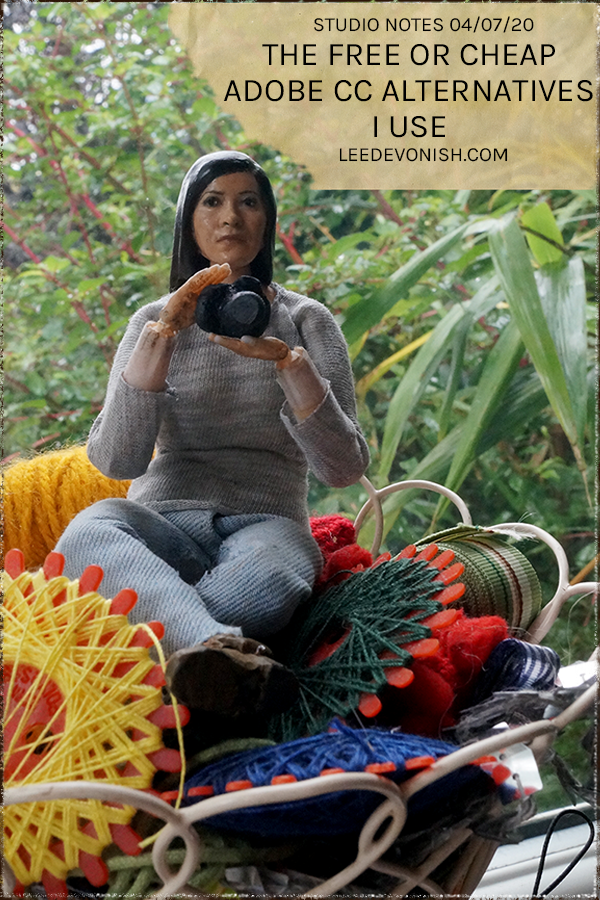 * denotes affiliate links