Studio Notes 15-08-20 - Learning to solder copper pipe. A bit of practise with home plumbing might lead to more metal sculpture techniques.
This is the third time I've lived in a house and been through a full bathroom gutting and renovation, and I never want to do it again. At least we've had a bit of fun with learning to solder copper pipe this week.
The last bathroom renovation we did used copper push-fit joints, and while they were fine, we wanted something more reassuring since many of our joints are going to be hidden behind walls. Besides that, where the pipes were going to be exposed (a prerequisite for any steampunk bathroom), we wanted the look of soldered joints rather than push-fit. So off we went and we bought ourselves a blowtorch, and spent a week or two building up the courage to use it.
Thankfully YouTube is full of helpful soldering tutorials from professional plumbers, but I can't help but recall the Crafsman's words: "where the heat goes, the silver flows". Of course, I'm not doing silver soldering, and I've made things extremely easy for myself with using solder ring fittings instead of end feed, but you have to start somewhere.
Hopefully this bit of practical experience will help me move into working on a wider range of metal sculptures – learning to solder copper pipe might well lead me into brazing and welding… I don't know, I'm easily led.
And after testing all of our new pipework, I'm delighted to say that none of the joints leak! Messing around with a blowtorch is definitely intimidating at first, but it's also lots of fun. Not burning your house down is also fun, so I recommend practising outside first.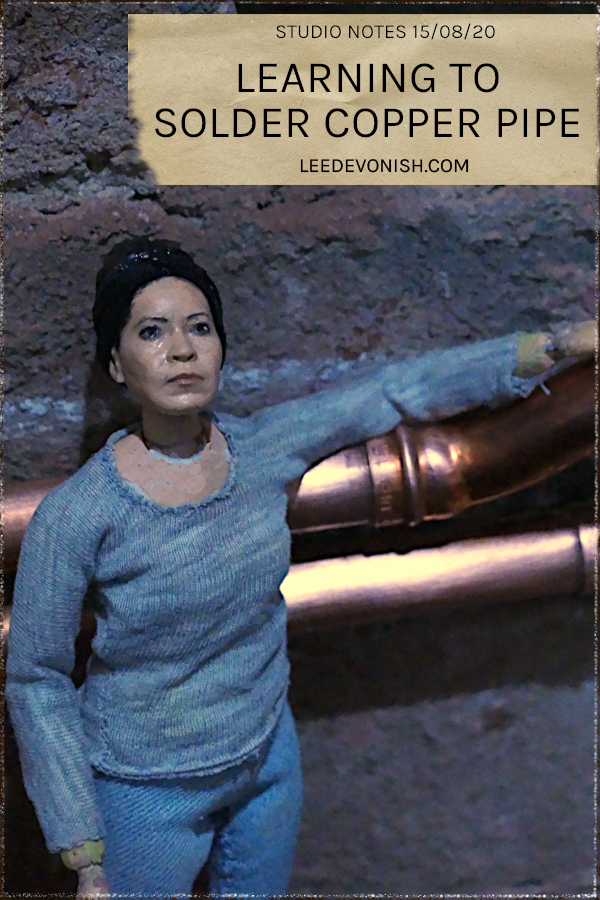 * denotes affiliate links