Creating my home art studio:
Since moving house I've been chipping away at getting my new studio ready. By ready I don't mean simply ready to work in – oh no, I mean ready enough to be shared with the internet.
A few months in and I've decided that it'll never be that ready, so I might as well force myself to start sharing pictures of the work in progress.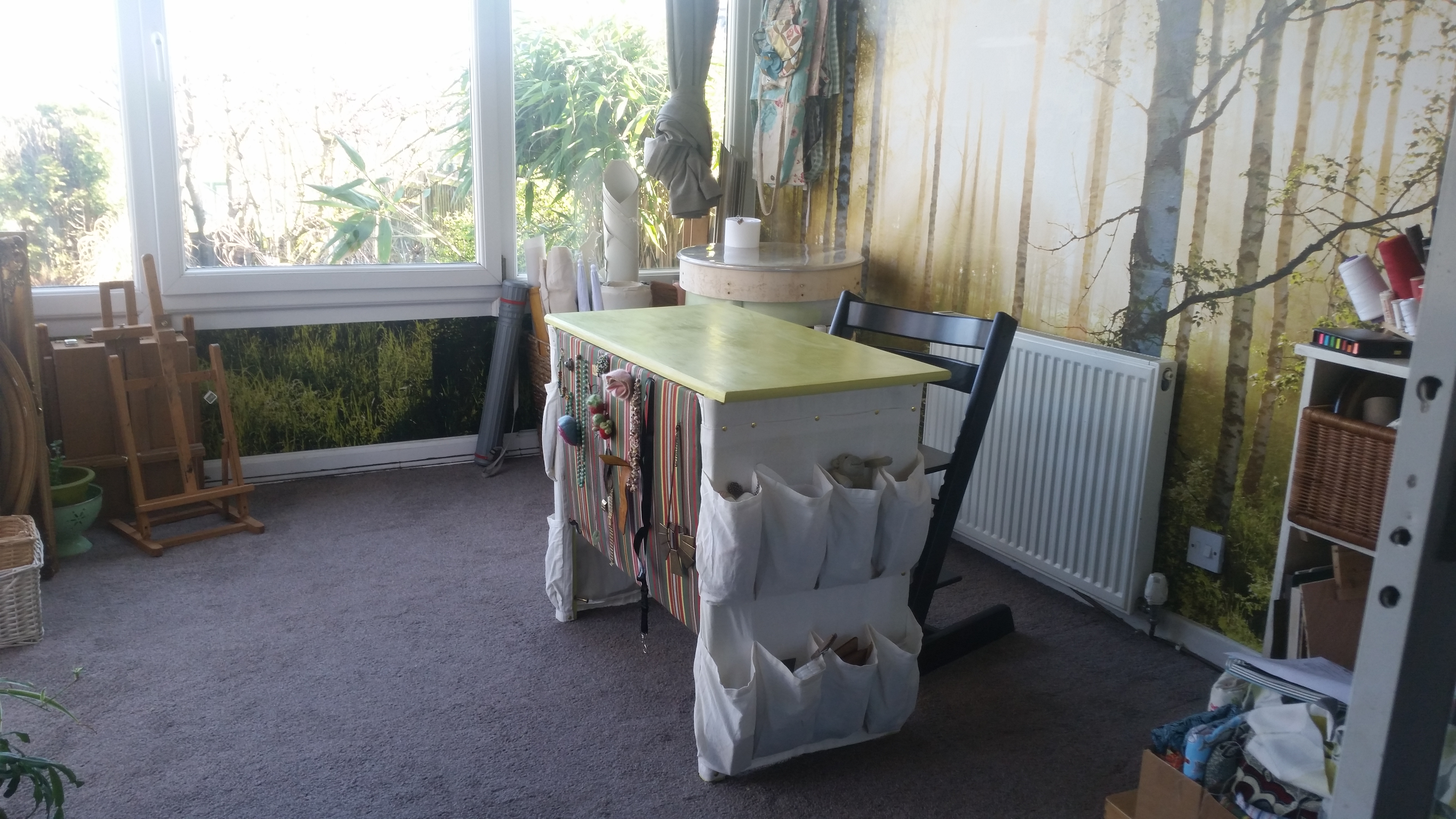 Upcycling and Frankensteining
I did a lot of work on my lime green desk, which is the only furniture project that's "done" so far. After painting it all (with paint left over from my last house) I waxed it (with furniture wax left over from 2011). Then I covered most of it up with canvas shoe holders salvaged from the side of two canvas wardrobes.
I've also been working on making a storage unit/light box out of an old demi-lune table and a drum kit. It's in use at the moment but I'll add pictures once it's closer to finished.
Finding room for everything is a challenge
With a conservatory pressed into service as a studio, the main challenge is the lack of wall space. What's brilliant about it is its main drawback – three of the four walls are mostly made of glass – but I dare not complain about anything at all about my studio. I love it!
Still, I need more desk space to paint on. I've got my eye on my current dining table which is due to be replaced soon and will afterwards migrate into the studio.
Right now, there seems to be a lot of space taken up by fabric and craft materials that I don't use in my fine art practice, so I need to spend some time zoning areas and prioritising space for painting, carving and printmaking.
Getting around to making new work…
Getting used to a new house and finding a place for everything is very time consuming, so all my work has been put on hold for a while. Now that things are settling down, it's time to get back down to business!