Concept/Word/Image:
A few years ago, I wrote an essay entitled "The Thought That Counts", on hierarchical dualisms within academic and non-academic modes of thought.
In it, I tried to address all manner of subjects including conceptualism, craft, feminism and graphic novels, linking these through similarities within oppositional pairings.
The sprawling project did earn me my Master's degree but also helped me to address my own practice, in the way in which I became interested in binding thought, language and writing with the image.
Mixing it all together
Personally, I've come to re-think my previous work on the gendered gaze, or the male as recipient of the gendered gaze, and try to combine visual and textual elements to be read as equal signifiers… or ignored, at the viewer's pleasure.
The visual representation of thought is a concrete device of the graphic novel that I want to transport to the realm of the single-frame 'fine' art piece.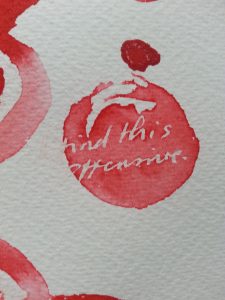 Why watercolour?
I've chosen watercolour for this kind of work precisely for its unfashionable status and attachment to now-repugnant understandings of art and middle-class respectability. (Think twee cottages and greetings cards.) There's also the matter of its legibility – it's familiar and understandable, and downright gorgeous at times.
What's next?
I don't know.
As my work continues I hope for it to provoke some internal discussion over the remaining hierarchical structures surrounding concept, word and image – will it actually succeed? .