Wutless - a Barbadian / Caribbean word describing being good for nothing, usually alluding to promiscuity but also being generally saucy or troublesome.
adj. A Caribbean word describing the state of being good for nothing, usually alluding to promiscuity but also being generally saucy or troublesome. Originally from "worthless".
Font: Black Ground
Wutless is one of the most expressive, versatile and just plain useful Bajan words I know – it's on the edge of meaning good-for-nothing, promiscuous or troublesome, but it can be played for laughs as well as said with real venom.
Frank Collymore's Barbadian Dialect* explains it as a variant "of worthless, but implying a degree of depravity not necessarily associated with the word."
I like that, actually – depravity is a word that's so seldom used in everyday speech that when it does drop in, it's like an Edwardian bomb. Makes you clutch your pearls or lose your monocle.
In the same way, when you call somebody or something wutless, you can be either dropping in a playful jab or delivering a merciless condemnation.
Lost in Bajan translation
I have mixed feelings about translating Bajan words into straight English because there's always something special lost in translation. If there wasn't, we would just use English, right?
Also, in my head I just jump straight into explaining it with something like "wassy" which is even more mystifying to the uninitiated.
And yes, I know it's not exclusively Bajan as it's used around the Caribbean. The Trini group Kes The Band's Wotless is one of my favourite soca songs, and it perfectly encapsulates the brazen quality of wutlessness – the fun, lighthearted kind.
We got nuff wutless people in every island.
A note on Frank Collymore's definition of wutless
Interestingly, Collymore's initial entry is for "wussless", with wutless as an alternative. Now, I don't think I've ever heard anybody say wussless, besides people who had in tummuch rum, and at that point you can't tell half of what they're saying anyway.
This book pickles my head in so many ways: it's wonderful that it exists, but it's more of a time capsule than a living, relevant document. After all, it was first published in 1955, before my own mother was born. I like to think of it as a peep into my grandmother's world, as Collymore was born in 1893, and my grandmother would have grown up as his younger contemporary.
There are words and phrases included that I've never heard anyone come out with, but if you wanted to research dialogue for a Barbadian period drama, you'd need this book. The etymological research into some words and phrases is fantastic though.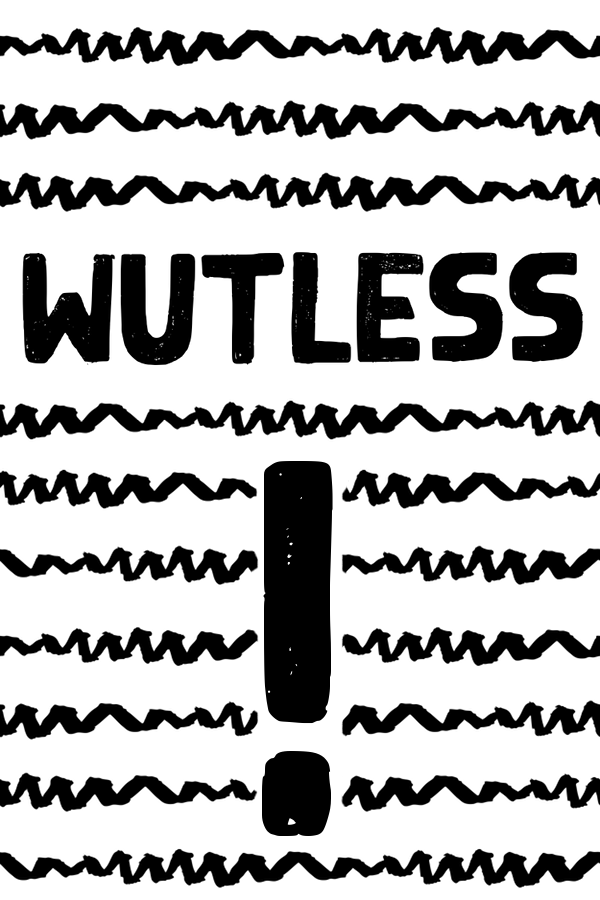 Illustrating this word using text was a fun challenge: I think the font looks big, bold and brazen, which is what being wutless conjures up to me.
* denotes affiliate links.