In the third part of Inheritance, a look into what the Devonish maternal family lineage holds turns up some unwelcomed surprises.
For all of the talk of my missing grandfather, you might have formed the impression that my grandmother's side of the family was an open book. It isn't.
Christ Church to St. Andrew
To me, the Devonish family sprawled outward from Gall Hill, into Silver Hill next door and then skipped parishes up to Chalky Mount. Not that I knew anyone who lived there; I had simply been told that Chalky Mount was where Ma had come from, and that it was where the Devonishes had come from.
I liked the idea of an ancestral village, even if the Devonishes had decamped to where I actually was. Of course, when my mother and I actually went there, there wasn't a single person left with the same name.
Still, my name sits in a peculiar slot where it is recognisably Bajan, but relatively uncommon. There aren't as many of us as there are Alleynes, Brathwaites and Callendars. We can be fairly sure that somewhere along the line, there will be some manner of relation.
But the family tree thins out drastically when it gets past Ma. Of course, she wasn't a woman who gave much away; that much we all know. So far, we only know about her mother, and just a little more – the strong matrilineal theme starts to take shape here.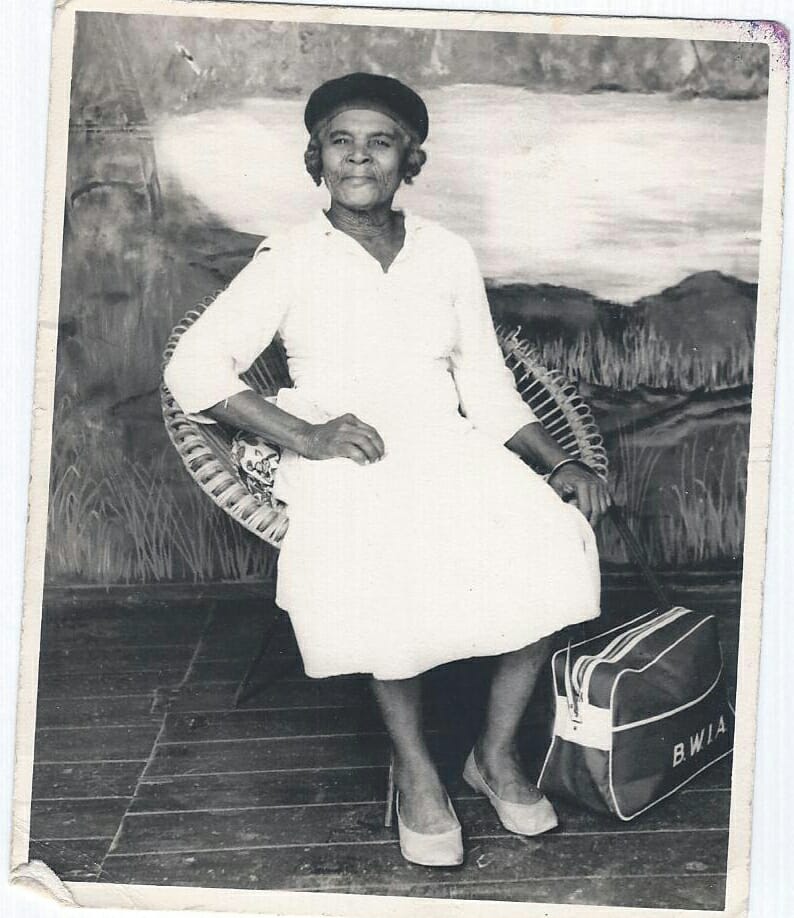 Mathilda, Mary, Martha and more
Lillian Devonish's mother was Mathilda Devonish. Mathilda had two sisters named Martha and Mary, but we recently found out that there was also a wonderfully named brother, Methuselah (as we assume his nickname, "Tootselah", to refer to), as well as another sister, Ada. There were seventeen children in all.
We believe that Mathilda, as we say, had a man named Joe Green. Why aren't we Greens? Well, some of us might be, but there are other questions besides that. Who were Mathilda's parents – who were the Devonishes before her? When my mother and I spent the day at the archives, we weren't just looking for clues about a white sailor in St. Lucy; we wanted to find out more about the family we already knew.
This time, the records threw up name after name – too many names, and no way of ordering them. There was no direct link, no marriage records that we could find to help us get any further back than Mathilda. Like many descendants of African slaves brought to the Caribbean, my ancestors are veiled by the fog of time.
The family I was raised with came from Mathilda, Mary and Martha's children. The matriarchs were in charge of my heritage, and this was how I understood the world to be. Women raised families, passed down identity and most of the time, their family history.
Except, of course, my grandmother didn't share all of her history.
A discovery
What I hadn't ever expected to find out, many years after leaving Barbados, were the names John, Elizabeth and Henrietta Devonish… the slaveowners.
The discovery was actually much more unsettling than I ever expected it to be. Of course, we all know that these characters existed in history, but if we never know their names, we never have to face them as individuals. These people who had the same last name weren't my family – they owned my family, and were paid compensation for their financial loss on their slaves' emancipation.
I didn't want to know any more. I was content to leave everyone to history, but my mother's curiosity got the better of both of us. She called me and asked what I thought about her having a DNA test.