Barkley L. Hendricks was often categorised as a Black artist, pop artist or realist painter; but how should he be understood in the context of art history?
This post contains affiliate links, marked by *
Barkley L. Hendricks: a Black pop artist?
This essay was written in 2011 when I was a student.
I'd planned to publish it as it was, but sadly, Barkley L. Hendricks passed away earlier in 2017, leading me to question whether to update it or not to reflect this. I decided to keep the essay as it was, written in the present tense, but the context of its writing should be borne in mind.
Barkley L. Hendricks is an American artist working in many disciplines, including painting and photography, although he is best known for his life size portraits of his young, urban contemporaries from the late 1960s to early 1980s.
This dissertation seeks to examine the importance of these paintings by examining their function as political statements, by the way in which they manipulate and subvert the European tradition of portraiture in order to ennoble and elevate his commonplace subjects. This will be done by exploring the various methods used by Hendricks to convey his intentions, including the use of scale, the depiction of clothing, historical European themes and traditional painting techniques.
The primary focus of this analysis will be portraits of African-Americans largely from Connecticut's urban areas, as featured in Hendricks's 2008 career retrospective show "Birth Of The Cool".
The essay will consider the historical context of the full length portrait as used for political ends, and the deliberate referencing of, as well as divergence from, historical themes and intentions in Hendricks's paintings. The paintings will be analyzed in terms of subject, composition, scale, colour and technique, and discussed in the context of the contemporary political and racial climate of America. Their place within the history of 20th century art movements will also be considered.
Through examination of these points, this essay intends to demonstrate the influence Hendricks' work has had on young artists, and ask the essential questions of whether Hendricks's work has been given adequate credit and exposure, and if it has not, then why.
Finally, it will ask the question of how exactly Barkley L. Hendricks should be classified: as a pop artist, realist, or black artist.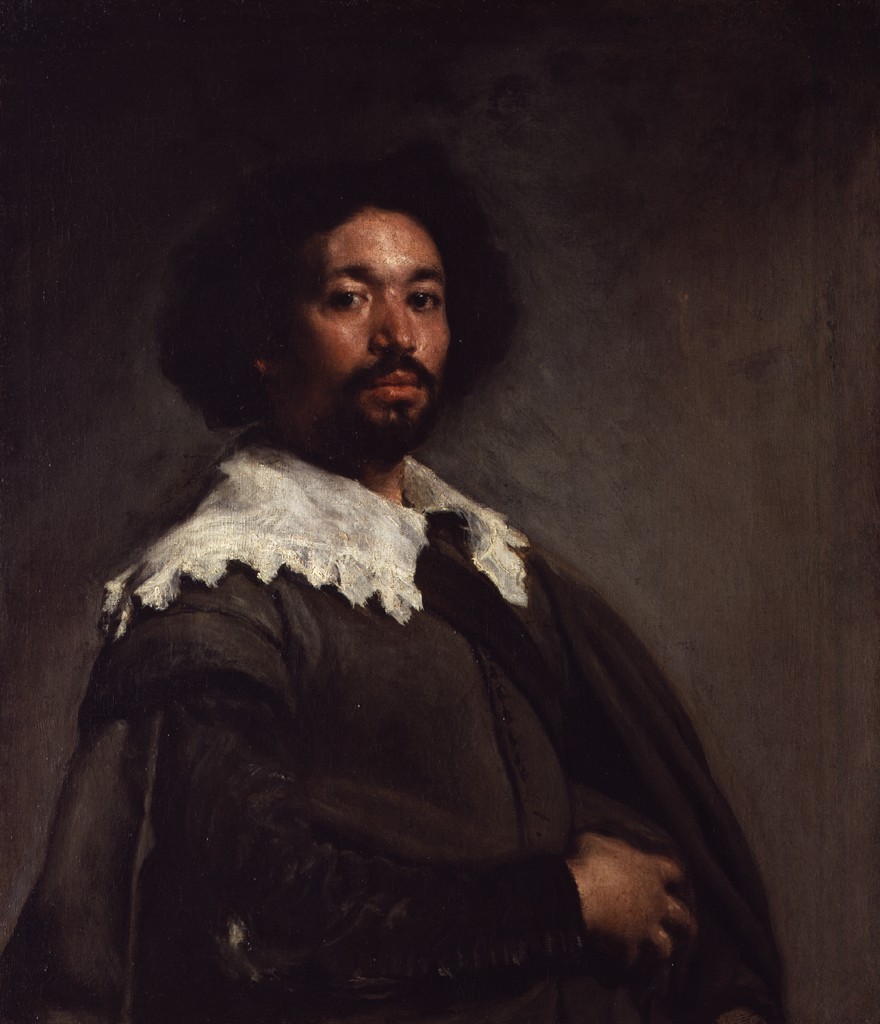 In 1966, Hendricks was awarded a travel scholarship by the Philadelphia Academy of the Fine Arts (PAFA), where he had the opportunity to see the art collections of the major galleries in London, Paris, Amsterdam, Florence and Madrid.
His 3 month European tour impressed upon him the fact of the under- representation of black figures in Western art history, and spurred him on to paint life-sized portraits of black individuals upon his return to the US. Portrayals of blacks in western art were notable for their scarcity and for the fact that they invariably depicted servants, slaves or noble savage types.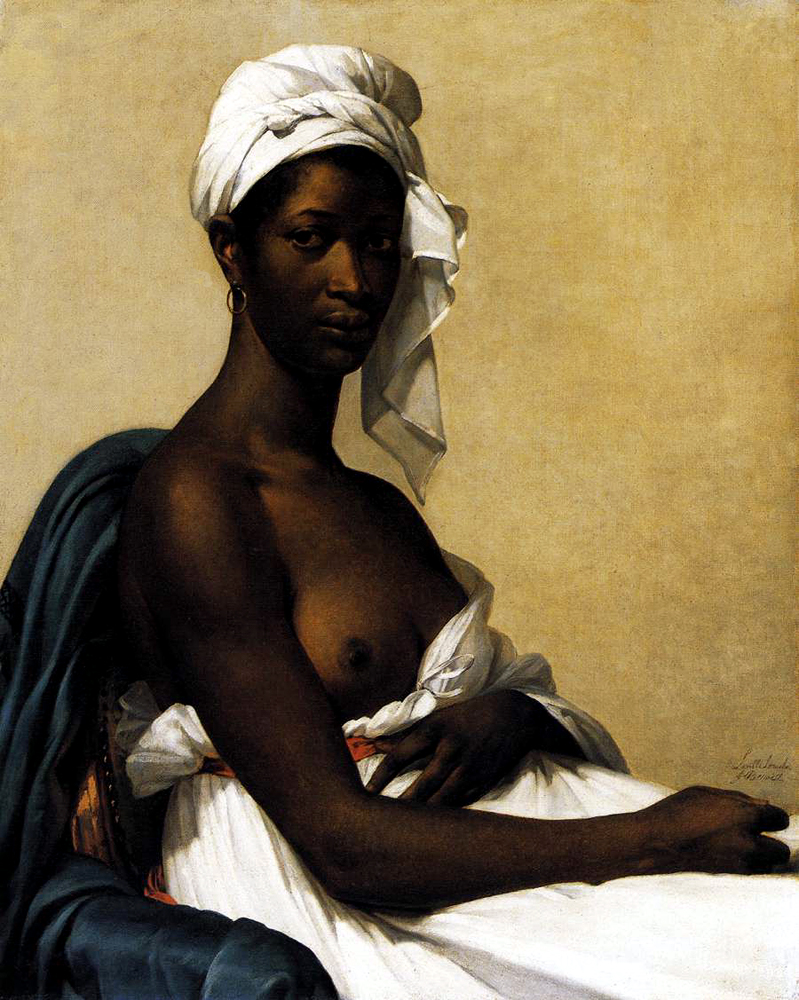 Several exceptional paintings do exist which depict named black individuals or elsewise unnamed but sympathetically treated black persons; a few of note are Marie-Guilhelmine Benoist's Portrait of a Negress, 1800, (Fig.2) Diego Velásquez's Juan De Pareja, 1650, (Fig.1) and Anne-Louis Girodet's Portrait of Jean-Baptiste Belley, from 1797 (Fig.3).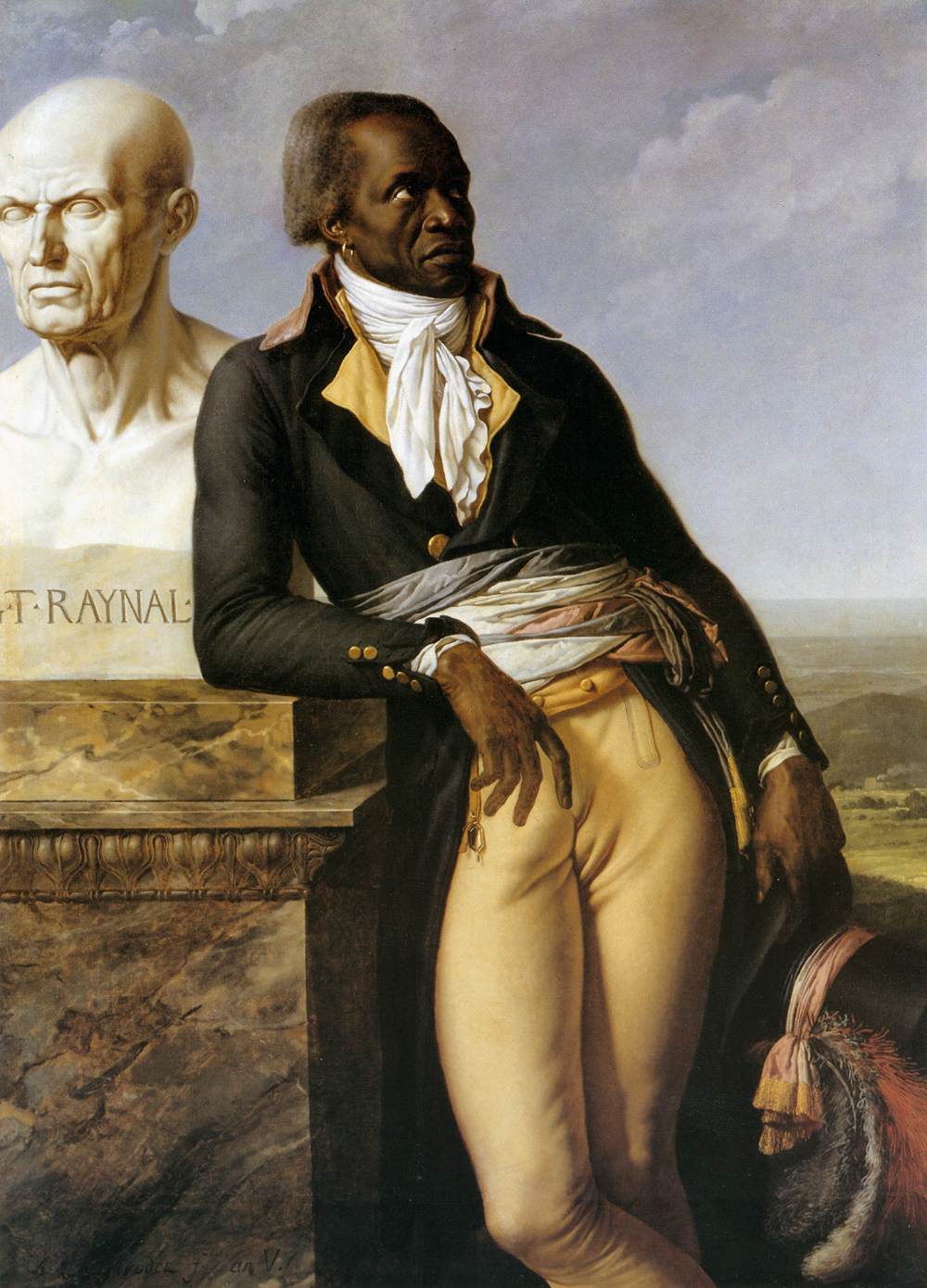 Girodet's portrait of Belley is most remarkable firstly by way of the subject being an educated, emancipated former slave who rose to become the first person of African descent to be elected to political office in the French Republic, as representative of Haiti to the Convention Nationale.
Belley's posture conveys a sense of ease and entitlement in his public office, hinted to in his tri-colour accessories, and gentlemanly refinement in the style of popular Grand Tour portraits. Girodet makes an unquestionable anti-slavery statement in this painting of the noble Afro-French citizen and the abolitionist Raynal, whose marble bust serves as a prop for Belley.
Portraits such as the aforementioned remained the exception, however, with the few representations of non-white individuals being romanticised versions of types which would be easily digested by the European home market. A typical artist's handbook published in Britain in the late 1960s gave instructions for painting skin (Harrison, 1968)*; as skin could be inferred to only be conceived of as being one particular colour, and any alternative would be considered unusual or specialist at best, but most likely not considered at all.
As late as the 1980s, Jean-Michel Basquiat commented on the usually unrealistic and infrequent portrayal of black people in modern art. (Archer, 2007)*
Whilst visiting the National Gallery in London, Hendricks was "struck" by Van Dyke's Portrait of Cardinal Guido Bentivoglio, (Fig. 4) and having obtained permission to copy the painting from life, set off to obtain supplies when he realised that he could not simply copy another artist's work, no matter how much he admired it. The red cloak in the Van Dyke painting was to become the inspiration for the long red coat depicted seven years later in 1972, Sir Charles, alias Willie Harris. (Fig. 5) (Hendricks, 2000)
Hendricks's rendition of his subject in triplicate invokes the many depictions of the Three Graces, and also reminds one of Phillippe de Champaigne's 1642 Triple Portrait of Cardinal Richelieu, also in the National Gallery. This device is also repeated in Hendricks' 1975 full length triple portrait Bashir (Robert Gowens), and Northern Lights, from 1976. Hendricks refers to the Three Graces theme as a direct influence on five of his paintings, including Sir Charles. (Hendricks, 2008)*
Citing Caravaggio and Rembrandt as influences (Golden, 2008)*, traditional skills and techniques were of great interest to Hendricks.
Several images made during the 1960s-70s were in direct response to the ancient tradition of religious iconography, featuring self-portraits and portraits of friends set against gold or silver leafed backgrounds. (Fig.10) Hendricks referred to his first experience of laying gold leaf for one such painting as "a twelve hour, back-bending experience". (Hendricks, 2000)
Van Dyke's influence on a painter such as Hendricks can hardly be doubted, as he shaped the course of portraiture for three centuries to come, instituting the "Grand Manner" carried on by Gainsborough, Lawrence and Sargent.
The swagger portraits of the eighteenth century onwards, created for the ostentatious display of wealth, certainly had little relevance to the modern post-war world as the ranks of those who could afford, house and brazenly flaunt such works in a time of financial and aesthetic austerity dwindled.
The language of the full length portrait could however be used to ironic effect by an artist such as Hendricks. His paintings can be seen as "contemporary swagger portraits" with the emphasis on "elaborate dress and fancy demeanor" serving to provide the same "social confirmation and advancement." (Knight, 2009) The use of historical themes, as well as the application of the devices drawn from the history of portraiture, serves to highlight the discrepancy between the common depiction of black urban dwellers in 1970s America, and the wealthy, privileged aristocracy for whom the conventions of portraiture were created.
Portraits were commissioned to provide monarchs with accurate representations of potential marriage candidates, to provide a visual display of one's social status, wealth and power, and for political gain, to align one's self with the ruling monarch.
Portraiture historically conveyed the social status of the individual by several methods.
In the use of scale, grandeur and majesty could be heightened by enlarging the scale of the body relative to the size of the head, a technique essential to Baroque paintings, and no mere error. (Harrison, 1968)* Full length portraits were generally reserved for royalty and the upper ranks of the aristocracy. (Schneider, 2000)*
The basic fact of the cost of a large, full length portrait placed it beyond the means of any but the wealthier nobility.
Hendricks uses the same device of scale, but for a twofold purpose – to aggrandize, but at the same time, to create intimacy. He accords his subjects the dignity of a full length portrait, but by establishing the same proportions as the viewer, a spatial relationship of parity is created between viewer and subject. (Thomas, 2001)
In rendering such unlikely persons as deserving of the artist's attention, the viewer can connect with these and instead of merely admiring the unattainable grandeur of the subject from afar, place his or herself into a similar position of entitlement.
His life sized portraits are "intimate, yet at the same time monumental", using the human scale to create an interaction with the spectator. (Golden, 2008, p. 70)*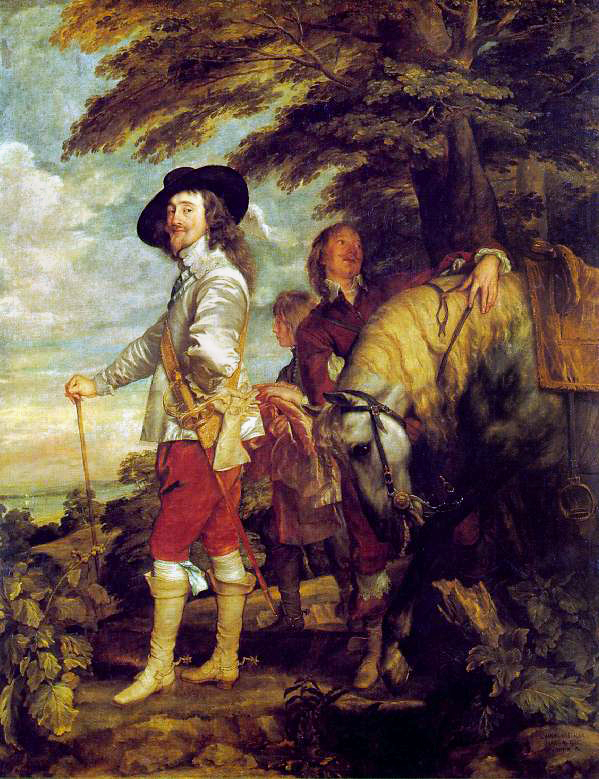 Hendricks's attention to body language and eye contact have their historical precedents in the painters of the Grand Manner. An analysis of Van Dyke's Charles I at the Hunt (Fig.6) shows King Charles, dismounted, divested of the trappings of statehood and in the guise of a gentleman at leisure, yet still conveying an unmistakable sense of privilege, power and entitlement.
His hand rests on his hip in what Schneider (2000) describes as a set-piece gesture used by rulers to impress their subjects. His body is turned away from his servants, and away from the viewer, but he deigns to glance towards us whilst retaining his regal distance.
Most of the subjects in Hendricks's Birth Of The Cool portraits make direct eye contact with the viewer, and White (2008) appraises this as stimulating "self consciousness in viewing", suggesting that the viewer becomes the viewed, whilst still being drawn in to the experience.
Focusing on the depiction of clothing, much was to be read into the historical Western portrait.
Billowing drapery and luxurious fabrics were indicative of the subject's status.
Diego Velásquez's portrait, Philip IV of Spain in Brown and Silver (Fig. 7) displays an imposing monarch, arrayed in splendid attire. The king's somber face says little, but his clothes do the talking.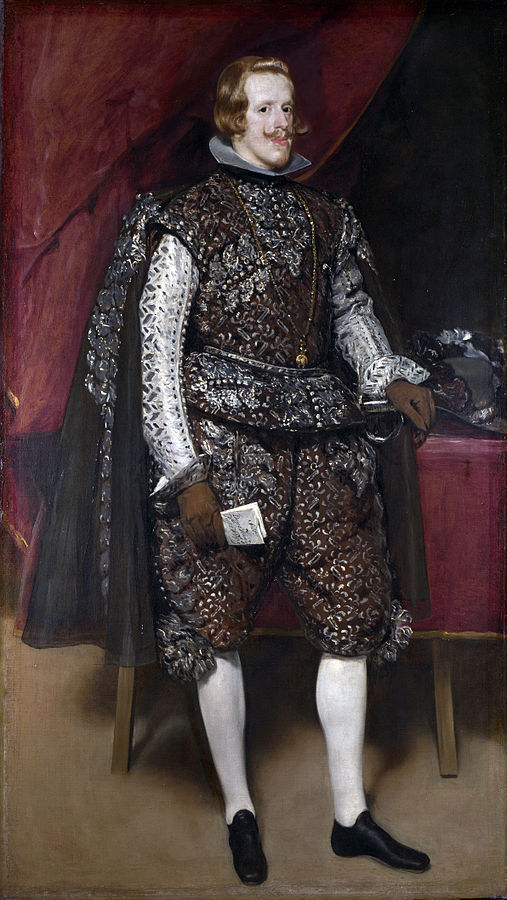 Much as the painters of royalty such as Van Dyke and Velásquez had done, Hendricks paid special attention to his subjects' attire, conscious that for these people, fashion had become a particularly important outlet for self-expression. The African-American fashion instinct had flamboyance and innovation as its hallmarks since the Harlem Renaissance, and it reached a pivotal stage of self-awareness in the 1970s following the civil rights movement. (Keyes, 2006)
Hendricks painted individuals wearing their own clothes, often stopping strangers and asking to take their picture if their outfits were particularly arresting, as for APBs (Afro-Parisian Brothers) (Fig.9) and Tuff Tony, both 1978. (Golden, 2008)* (Nasher Museum of Art, 2008) The desire to portray a person came about as a reaction to their fashion as much as their personality. (Golden, 2008)*
The effect is a truthful exploration of the individual's vision of himself, and a representation of the pomp and flair of the average man as being the equal of that of any monarch.
The mid 1960s to late 1970s saw an extremely varied range of artistic movements and styles operating in parallel, including minimalism, conceptualism, performance, process art, arte povera, neo-expressionism, pop art and photorealism/hyperrealism, amonst others. (Archer, 2007)* The new image painters of the 1970s rejected the recently established styles of realism, as well as the appearance of technically good drawing and painting, choosing to cultivate "the appearance of crudity and ineptness". (Sandler, 1996, p195)*
Sandler (1996) also states that painting as a medium was viewed by the avante-garde as backward-looking and therefore dead, and that the new image painters themselves dismissed conventional painting as academic.
Hendricks is often placed historically between photorealism and pop art.
By virtue of working in a photo-realist style during the 1970s, Hendricks draws comparisons to Chuck Close, but as Schoonmaker states, "If a relative contemporary realist painter like Chuck Close (born in 1940) can be likened to a bestseller, Hendricks would be the cult classic." (Schoonmaker, 2008, p16)*
Unlike some realist contemporaries, Hendricks's work does not commingle easily with the output of figurative realism of the time. (Powell, 2008)* This may in some part be purely due to the majority of his subjects being black, coupled with the subjects's reciprocal gaze and self-exhibitionist nature.
Although Hendricks, a keen photographer, used photographs as direct source material for his paintings, he does not closely fit the typical 1970s photorealist mould.
Prominent photorealist (or hyperrealist) painters such as Estes and Bechtle sought in their cityscapes and urban scenes to combine the impersonality of the photographic source material, minimalism's stylelessness and pop art's commonplace subject matter (O'Mahoney, 2006), working with "homogenous sharp focus". (Ruhrberg, 1998, p334) Using mechanical assistance such as projected slides in the production of their images, the photorealists' reference points shifted from nature to the photograph itself. (Fineberg, 1995)*
Even photorealists working in portraiture such as Close replicated the surface quality of their photographic source material faithfully and with mechanical precision in order to distance the work from artistic interpretation or style. (O'Mahoney, 2006)
For some new realist painters, the photograph is an important a tool as the sketchbook is for other painters (Ruhrberg, 1998), and in this instance Barkley Hendricks is easily aligned with other, more purely photorealist painters, as he studied photography at Yale under Walker Evans, and has continued to practice photography with a passion since the early 1970s, exhibiting photographs and rarely leaving home without a camera. (Schoonmaker, 2008)*
The influence of minimalist artists can be seen in the use of monochromatic backgrounds in Hendricks's portraits, with the positioning of figures on flat fields repeating their clothing or skin colour.
During the 1960s, as a reaction to Abstract Expressionism, there arose the artistic principle of reduction, "a limitation to subtle effects of light and dark… of one and the same tone". (Ruhrberg, 1998, p.295) This initial interest in monochromatic painting can be seen in Hendricks's early basketball paintings, particularly in Granada (1970), which displays a geometric abstraction of basketball lanes, painted in black oil paint on black acrylic.
Within his portrait paintings, Hendricks uses white on white (Fig. 8) as well as black on black, reminiscent of Robert Ryman and Ad Reinhardt respectively, but also explores other colours such as green, yellow and red.
When not rigidly maintaining this chromatic stricture, the figures are often placed against contrasting or complimentary flat backgrounds, or silver or gold leaf. The investigation of what Hendricks describes as a limited pallette series (Golden, 2008)* in flat colour fields as well as non-illusionistic, Byzantine referencing in his icon-like images, is seen alongside an insistence on traditional realism in his subjects, drawing on the recent history of American abstraction as well as classical naturalism. Hendricks's limited palette series demonstrate his "limited but willful engagement with minimalism through the unlikely genre of figurative representation." (Schoonmaker, 2008, p. 26)*
Also creating realist, figurative paintings during this time period was Philip Pearlstein.
Pearlstein's carefully rendered and detailed nudes in interior settings share some similarities to Hendricks's nudes, but Pearlstein's figures are figures and no more; depersonalized and objectified by their clinical representation and sharp cropping. (O'Mahoney, 2006)* There is some similarity in Hendricks's Take All The Time You Need, which features a partially clothed female model within an interior setting, but unlike Pearlstein's models, who seem unaware of his or any viewer's presence, the majority of Hendricks's subjects flaunt themselves, returning the viewer's gaze cooly.
Powell (2008) states that Hendricks introduced a kind of realism which was problematic and unsettling. Sirmans (2008) describes Hendricks's position as a pop artist updating realist portraiture in the 1970s, at the same time affirming qualities of the vernacular culture; he ventures that in Hendricks' art, these black subjects transcend themselves to become tropes, which would validate his assessment of Hendricks as a "second generation pop artist". (Sirmans, 2008, p.79)*
However, the vast majority of the portraits depict real people, known to Hendricks, and the focus is on the individuals, not on a representation of a type.
I would venture that his categorization as a pop artist is inappropriate, as the ideology behind most pop art was characterized by the mechanization and depersonalisation of the process as well as the commodification of the subject. (Archer, 2007)*
Apart from this ambiguity as to his general historical classification, Hendricks has an uneasy position within "black art". The Civil Rights Movement of the 1960s pervaded the political and cultural landscape of America. The mid- to late 1960s was a period of riot and revolution, with the passage of the Civil Rights Act in 1964, race riots across the country and the assassinations of Malcom X in February 1965 and Martin Luther King, Jr. in April 1968.
"Beginning in 1964, rebellions in Harlem and Rochester, New York, initiated four years of long hot summers. Watts, Detroit, Newark, Cleveland, and many other cities went up in flames, culminating in nationwide explosions of resentment and anger following Martin Luther King, Jr.'s April 1968 assassination." (Salaam, 1997)
Protest movements of this time spawned many art movements in support of racial equality, as well as feminist and gay rights, affirming the making of art as a socio-political activity, and not merely an aesthetic one. (O'Mahoney, 2006)* Powell (2005) writes about this period being one in which "African American writers, performing artists and visual artists made black culture and the political struggles of black peoples worldwide their raison d'être."
The early 1970s saw the emergence of the Blaxploitation film, with Melvin Van Peebles's Sweet Sweetback's Baadasssss Song being credited as the first in this influential genre.
Mike Phillips writes:
"Sweet Sweetback's Baadasssss Song (1971) became a legend, sparking off the "blaxploitation" genre and inspiring a network of cultural trends. It did not "cross over" to white audiences in the way Shaft did later on, its real influence was among black artists and activists. The lesson was that if you wanted to be a true black artist, you had to reject the direction of "the man", and look for inspiration in the everyday lives of the black community around you." (Phillips, 2005)
Artists whose careers began during the Harlem Renaissance of the 1930s and 40s "resurfaced with a renewed sense of racial solidarity and political insurgency during the Black Arts Movement." (Powell, 2005)
The Black Arts Movement, primarily a literary movement, came together in 1965 and dissolved in 1975/6. Its effectiveness as an arts movement lay in its partisan, militant nature and close affiliation to the Black Power movement, and its aggressive promotion of black identity ensured a more permanent impact than that of the Harlem Renaissance, in which black artists were seen to be "on the leash" of white patrons and publishing houses. (Salaam, 1997)
The Black Arts Movement magnified the socio-political inequalities previously pointed out by these older artists. (Britton, 2005)* Similarly, AFRI-COBRA, the African Commune of Bad Relevant Artists, was a group of black artists founded in 1969, promoting a sense of "solidarity thoughout the African diaspora" and the use of Afro prototypes to inform design sensibilities. (Powell, 1997, p.102)*
Within such a climate it can be understood why the simple act of visually representing one's self and contemporaries can become an overtly political one, when one happens to be African-American.
By no means unaware of the inherent political statement in his work (as no Virginia-born person of colour could possibly have been in the late 1960s) Hendricks remained separate from the ghettoizing effect of highly politically charged images, conveying his message with more sophistication.
"Neither responsive to the black arts movement nor seemingly concerned with the opposite black artist approach of embracing color in the form of abstraction, Hendricks's work in the late 1960s and 1970s updates the concerns of pop art while anticipating the 1980s return to the figure in the form of neo-expressionism." (Sirmans, 2008, p81)*
It may be said that Hendricks, in portraying black Americans, was too radical for the mainstream, but in portraying them in a traditional manner, was too mainstream for the radicals.
Perhaps the most successful black artist of the period, Jean-Michel Basquiat, used graffiti as the method to express his criticism of the portrayal of black people within America at the time. (Archer, 2007)* Hendricks's style is unquestionably less confrontational, less obviously protesting. Basquiat as well as Hendricks focused extensively on the depiction of the black male body, and in this there may be found a link between the traditional manner of depiction favoured by Hendricks and younger artists such as Kehinde Wiley. (Sirmans, 2008)*
Basquiat, a Neo-Expressionist painter, produced bold, aggressive works which were seen as an "antidote to the control, precision and harmony of so called museum art." (O'Mahoney, 2006, p.88)*
Hendricks's representations of African Americans – "black, beautiful, and suave" were unlike the majority of those made during the period, such as those by artists including Basquiat, Faith Ringgold and Dana C. Chandler. (Powell, 1997, p.149)* He refuted the kind of images which some were only willing to understand as stereotypes, challenging their preconceptions by offering a much more complex way of being. (Golden, 2008)*
Hendricks did not adhere to the "prevailing mood of racial idealism" but rather, "frequently interjected an element of irony into common notions of blackness". (Powell, 2008, p47)*
Sirmans (2008) ventures that Hendricks's figures convey a political import similar to that of the paintings of Leon Golub.
However, unlike many of his contemporaries, Hendricks's work is by not overtly confrontational; it appears to straddle the lines, connecting "the art movements of American realism and post-modernism, occupying a space between portraitists Chuck Close and Alex Katz and pioneering black conceptualists David Hammons and Adrian Piper." (Art Knowledge News, 2008) Hendricks' paintings seem equally at odds with both ends of this spectrum, stylistically not very like the painters but conceptually not very like the philosophers.
Whereas Close, Katz, Hammons and Piper are well known figures within the art world, Hendricks remains relatively unknown, although the resonance of his work within the contemporary realm can be said to be profound. (Golden, 2008)*
Texts narrowly relating to the active struggle against racial discrimination faced by black artists in America conspicuously omit Hendricks, despite younger artists citing him as a direct influence. Contemporary artists such as Kehinde Wiley, Chris Ofili and Yinka Shonibare MBE have inherited the art historical legacy of Hendricks's work. Shonibare's work is similarly indebted to the world of fashion and questions the validity of a black identity and aesthetic, while drawing heavily on European traditions of painting.
Wiley focuses on representing young black men steeped in hip hop culture, placed against effusive, Rococo backgrounds which parody Grand Manner swagger portraits and continue Hendricks's themes in a more direct, frontal manner.
Others such as Rashid Johnson and Jeff Sonhouse have been specifically influenced by Hendricks's paintings. (Sirmans, 2008)
Discussing the art world of the 1970s, Sandler (1996, p215)* states, "Throughout much of the 1970s postminimal tendencies continued to be considered the most advanced in international art, and received a considerable amount of art-critical and museum support." Minimalism and conceptualism, popular during the 1970s, "often sought the dematerialization of the art object – painting being enemy number one." (Sirmans, 2008, p80)*
Hendricks trained at two prestigious art schools, PAFA and Yale, and was therefore exposed to the mainstream art world. He still became somewhat of an outsider, stating himself that he was not in the hot bed of activities in the city, and not being sure of what was going on other than being educated to a limited extent by what he saw or read in the papers. (Golden, 2008)*
Whilst at Yale, Hendricks spent more time with the photography students and professors than with his fellow painters, who were predominantly concerned with minimalism and abstraction; Hendricks was one of only two figurative painters there. (Schoonmaker, 2008)*
In 1971, the same year in which he won his first award for photography, Hendricks participated in the controversial exhibition Contemporary Black Artists in America at the Whitney Museum of Modern Art, in New York, which was the subject of a boycott by many artists. Hendricks did not attend the opening due to being, according to Schoonmaker, an outsider to the New York art scene. This was a position he found himself in due to his location in Philadelphia, as well as his commitments to the US. military. (Schoonmaker, 2008)*
Knight (2009) describes Hendricks as a "distinctly under-recognized artist" but does not attribute his lack of recognition as a function of race solely, but rather points to several exclusionary factors, such as the domination of conceptual art, sculpture and video over portraiture.
Schoonmaker also states that during the mid 1970s Hendricks's work was achieving recognition, with participation in major exhibitions in museums and solo exhibitions, although mainstream success was elusive, "as was the case for most African American artists of his generation". (Schoonmaker, 2008, p20)* The new interest in cultural pluralism during the 1970s led to the increase in opportunities for non-white and female artists to enter American high cultural instutions. (Fineberg, 1995)*
Most interesting however is the question of whether Barkley L. Hendricks should be classified as a Black artist.
The discrimination that Hendricks, as an artist who is Black, would have faced in the art world of the 1960s and 70s, is undeniable; yet there is the question of whether positive discrimination is just as harmful. This gives rise to the very relevant question of whether there should even exist such a term as "Black artist".
By assuming a single point of reference in an artist's work, there is inferred a narrow scope of interest, a narrow audience.
It will come as little surprise that the contemporary artists mentioned above as working in the same vein as Hendricks share his race; it will be assumed that a non-white artist will produce work which will appeal to and inspire non-whites in particular, something which will never be assumed of a white artist.
The aforementioned "ghettoising" of political black art has insinuated itself into the contemporary art world, perhaps surprisingly in the form of diversity programs meant to support non-white artists.
Under the heading "Ghettoising 'Black' Art", Sonia Dyer writes:
"One of the main aims of the black art movement in the 1970s and 80s in Britain was for artists to achieve recognition for their work, beyond issues of race and ethnicity… Today, the institutionalisation of diversity policies means that art is being sidelined, and in many cases black artists are first and foremost regarded as black. This is clearly shown by the unhealthy pressure on artists and curators from non-white backgrounds to privilege their racial background above all else in relation to their practice." (Dyer, 2007, p.11)
"Hyperawareness of difference or separateness" is equally as destructive as external prejudice (Saunders, 1967); marginalising by means of specialising, and reasserting the concept of otherness. Perhaps if this presupposition of minority appeal was removed, Hendricks's work may have been exposed to a wider audience, and his early aim of representing his "peeps" more successful.
As discussed, it would be unreasonable to attempt to classify Barkley L. Hendricks as a pop artist or photorealist.
Although his portraits revel in the black vernacular culture of the day, they refute the plasticity and superficiality of pop and the commodification of the subject.
Despite his traditional, academically informed approach to painting, Hendricks shares little in common with the photorealists of his day, having far less of a cold, clinical eye and care for mechanical reproduction than they, and more of an empathy and reciprocal relationship with his subjects.
Hendricks belongs to the pluralist, post-modern age, to the age of the individual, working in reaction to the Modernist antecedents but with highest regard to the personal vision.
He explored very weighty and valid themes affecting his society in his own manner; in this light he can be most accurately described as a social realist painter.
His relative obscurity may be partially due to his audience being perceived to be one and the same as his subjects; it is likely that as they were outsiders to the cultural institutions of America, Hendricks by his naturalistic, straightforward manner of representation, became an outsider as well.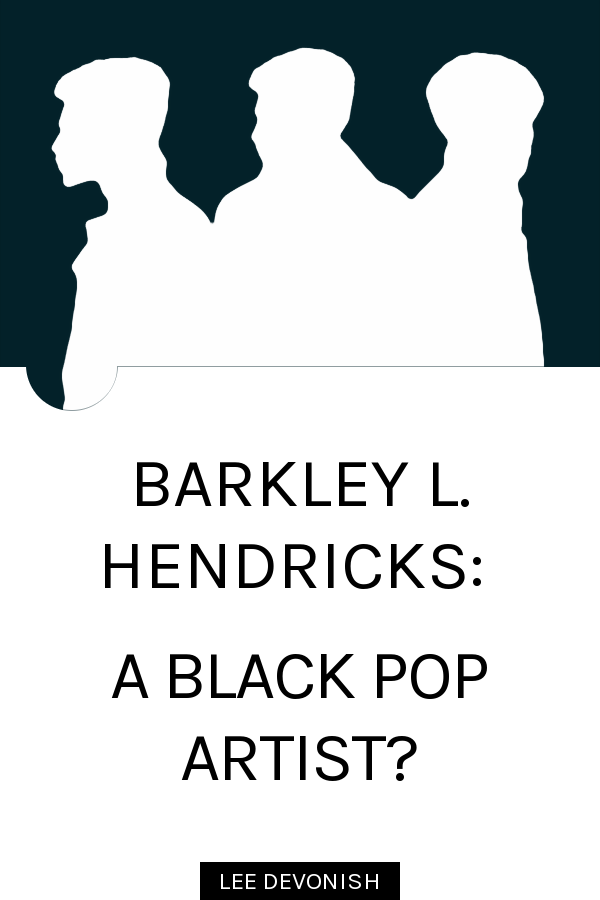 Quoted illustrations –
1. Juan De Pareja – Diego Velásquez 1650
2. Portrait of a Negress – Marie-Guilhelmine Benoist 1800
3. Portrait of Jean-Baptiste Belley, Deputy for Saint-Domingue – Anne-Louis Girodet 1797
5. Sir Charles, Alias Willie Harris – Barkley L. Hendricks 1972
4. Portrait of Cardinal Guido Bentivoglio – Sir Anthony Van Dyck c.1625
6. Charles I at the Hunt – Sir Anthony Van Dyck c.1635
7. Philip IV of Spain in Brown and Silver – Diego Velásquez 1631-2
8. Dr. Kool – Barkley L. Hendricks 1973
9. APBs (Afro Parisian Brothers) Barkley L. Hendricks 1978
10. Icon for Fifi – Barkley L. Hendricks 1982
11.Napoleon Leading the Army Over the Alps – Kehinde Wiley 2005
12. Misc. Tyrone (Tyrone Smith) – Barkley L. Hendricks 1976
Bibliography
Archer, M. 1997. Art Since 1960.* Thames and Hudson. London. UK
Bjelajac, D. 2000. American Art A Cultural History.* Laurence King. UK
Britton, C. 2005. African American Art – The Long Struggle.* New Line Books. USA
Cambridge University Press. 1957. British Historical Portraits A Selection From the National Portrait Gallery.* Cambridge University Press. Cambridge. UK
D'Alleva, A. 2005. Methods & Theories of Art History.* Laurence King. UK
Dyer, S. 2007. Boxed In: How Cultural Diversity Policies Constrict Black Artists. Manifesto Club, Artistic Autonomy Hub. UK
Golden, T. 2008. Conversation with Barkley L. Hendricks in: Barkley L. Hendricks: Birth of the Cool.* ed. Schoonmaker. Nasher Museum of Art at Duke University. North Carolina. USA
Harrison, C. 1968. The Portrait Painter's Handbook.* Studio Vista. London. UK
Hendricks, B. 2000. Rome Rendezvous – Rendezvous with Myself. in: The Barkley L. Hendricks Experience. Lyman Allyn Art Museum. Connecticut. USA
Hendricks, B. 2008. Palette Scrapings. in: Barkley L. Hendricks: Birth of the Cool.* ed. Schoonmaker. Nasher Museum of Art at Duke University. North Carolina. USA
Evans, A. 2008. Studio: The Studio Museum in Harlem Magazine/Fall.Winter 2008-09. The Studio Museum in Harlem. USA
Fineberg, J. 1995. Art Since 1940 – Strategies of Being.* Laurence King. UK
Foster, H. 2005. Pop.* Phaidon. UK
Lawson, J. 1999. Van Dyck – Paintings and Drawings.* Prestel. London. UK
Levey, M. 1971. Painting At Court.* New York University Press. New York. USA
McDonald, J. 2007. American Ethnic History Themes and Perspectives.* Edinburgh University Press Ltd. Edinburgh. UK
Meyer, J. 2001. Minimalism – Art and Polemics in the 60s.* Yale University Press. USA
Moorhouse, P. 2007. Pop Art Portraits.* National Portrait Gallery Publications. London. UK
National Museum of American Art, Smithsonian. 1995. National Museum Of American Art.* Bulfinch Press/Little, Brown & Company. USA
O'Mahony, M. 2006. American Art.* Flame Tree Publishing. UK
Parmesani, L. 1998. Art of the 20th Century – Movements, Theories, Schools and Tendencies 1900-2000.* Skira Editore. Milan
Perry, R. 1992. Free Within Ourselves: African-American Artists In The Collection Of The National Museum Of American Art.* Smithsonian Institution. USA
Pooke, G & Witham, G. 2003. Teach Yourself Art History.* Hodder Education. London. UK
Powell, R. 1997. Black Art and Culture in the 20th Century.* Thames & Hudson. UK
Powell, R. 2001. To Be Real. in: The Barkley L. Hendricks Experience. Lyman Allyn Art Museum. Connecticut. USA
Powell, R. 2008. Barkley L. Hendricks, Anew. in: Barkley L. Hendricks: Birth of the Cool.* ed. Schoonmaker. Nasher Museum of Art at Duke University. North Carolina. USA
Powell, R. 2009. Cutting a Figure: Fashioning Black Portraiture.* University of Chicago Press. USA
Ruhrberg, F. 1998. in: Art of the 20th Century. ed. Walther. Taschen. Germany
Sandler, I. 1996. Art of the Post-modern Era : From the Late 1960s to the Early 1990s.* Harper Collins Publishers. New York. USA
Saunders, R. 1967. Black Is A Color. Arts Magazine. USA. Reprinted 2009 in: Studio The Studio Museum In Harlem Magazine. The Studio Museum In Harlem. USA
Schmidt Campbell, M. 1994. Harlem Renaissance: Art of Black America.* Harry N. Abrams. USA
Schneider, N. 2000. The Art of the Portrait.* Taschen. UK
Schoonmaker, T. 2008. Birth of the Cool. in: Birth Of The Cool.* ed. Schoonmaker. Nasher Museum of Art at Duke University. North Carolina. USA
Sirmans, F. 2008. Barkley Hendricks: Ordinary People. in: Birth Of The Cool.* ed. Schoonmaker. Nasher Museum of Art at Duke University. North Carolina. USA
Sirmans, F. et al. 2009. 30 Americans.* Rubell Family Collection. USA
Storr, R. et al. 1998. Chuck Close.* Museum of Modern Art. USA
Thomas Jr, F. 2001. A Personal Reflection on the Barkley L. Hendricks Experience. in: The Barkley L. Hendricks Experience. Lyman Allyn Art Museum. Connecticut. USA
Walker, J. 1983. Art in the Age of Mass Media.* Pluto. UK Wiszniewski, A. 1987. The Post-Avante-Garde – Painting in the Eighties. The Academy Group. UK
Websites
Art Knowledge News. 2008 (?). Nasher Museum features Barkley Hendricks ~ 'Birth of the Cool' http://artknowledgenews.com/201002166758/barkleylhendrickshtml.html accessed 10/2010
Bower, J. 2004. The Black Effect: Is There Such a Thing As An African-American Aesthetic? http://www2.citypaper.com/arts/story.asp?id=7793 accessed 03/2011
Dent, S. 2007. Literature is About Individuals, Not Races http://www.guardian.co.uk/books/booksblog/2007/jun/06/literatureisaboutindividual accessed 02/2011
Genocchio, B. 2008. Pop Art meets Photorealism – New York Times http://www.nytimes.com/2008/01/27/nyregion/nyregionspecial2/27artsubct.html?_r=2&ref=barkley_l_hen-dricks accessed 01/2011
Giuliano, C. 2004. Dressed For Success: Not Necessarily Out of Africa http://www.nyartsmagazine.com/?p=2635 accessed 04/2011
Johnson, K. 2001. Art in Review; Philip Pearlstein http://www.nytimes.com/2001/04/06/arts/art-in-review-philip-pearlstein.html?src=pm accessed 02/2011
Johnson, K. 2008. Art Review – Barkley L. Hendricks – Slick and Styling – Provocative Poses at the Studio Museum in Harlem http://www.nytimes.com/2008/12/05/arts/design/05hend.html?ref=barkley_l_hendricks accessed 11/2010
Keyes, A. 2006. Charting Black America's Fashion Saavy. http://www.npr.org/templates/story/story.php?storyId=6243503 accessed 04/2011
Knight, C. 2009. Barkley L. Hendricks at the Santa Monica Museum of Art http://latimesblogs.latimes.com/culturemonster/2009/05/barkley-l-hendricks-at-the-santa-monica-museum- of-art.html?cid=6a00d8341c630a53ef01156fb2f4cb970c accessed 10/2010
Koplos, J. 2008. Barkley L. Hendricks http://www.artinamericamagazine.com/news-features/magazine/barkley-l-hendricks/ accessed 04/11
Louise Blouin Media. 2009. Swagger in Santa Monica http://blogs.artinfo.com/lacmonfire/2009/06/15/swagger-in-santa-monica/ accessed 01/2011
Nasher Museum of Art. 2008. Nasher Photo Gallery http://nasher.duke.edu/galleries/main_gallery/?cat=1&direction=p&offset=10 accessed 10/2010
National Portrait Gallery. 2010. Portraits in Disguise. http://www.npg.org.uk/learning/digital/portraiture/portraits-in-disguise.php?searched=conventions&advsear ch=oneword&highlight=ajaxSearch_highlight+ajaxSearch_highlight1 accessed 09/2010
The New York Times. 2010. Barkley L. Hendricks News – The New York Times http://topics.nytimes.com/top/reference/timestopics/people/h/barkley_l_hendricks/index.html Dec 9, 2010 accessed 12/2010
Pennsylvania Academy of the Fine Arts. 2010. Barkley L. Hendricks: Birth of the Cool https://www.pafa.org/barkley-l-hendricks-birth-cool accessed 12/2010
Phillips, M. 2005. The Legacy of the 1970s Black Renaissance http://www.guardian.co.uk/artanddesign/2005/may/14/art accessed 11/2010
Powell, R. 2005. in: Africana: The Encyclopedia of the African and African American Experience, Second Edition. 2005. ed. Gates Jr, H & Appiah, K. Perseus Books. available online at: http://www.artlex.com/ArtLex/a/african_american_7.html accessed 10/2010
Raynor, V. 1982. Barkley Hendricks, A Tale of Two Artists. http://www.nytimes.com/1982/03/26/arts/art-barkley-hendricks-a-tale-of-two-artists.html accessed 02/2011
Raynor, V. 1983. Artists Champion Other Artists. http://www.nytimes.com/1983/01/30/nyregion/art-artists-champion-other-artists.html accessed 02/2011
Salaam, K. 1997.The Black Arts Movement. in: The Oxford Companion to African American Literature. 1997. Andrews, Foster, Harris. Oxford University Press. New York. available at: http://aalbc.com/authors/blackartsmovement.htm accessed 10/2011
Sewell, B. 2010. Please Don't Give Chris Ofili Any More Money.http://www.thisislondon.co.uk/arts/article-23800037-please-dont-give-chris-ofili-any-more-money accessed 03/2011
Sharma, A. 2007. Boxed In – "Let's Forget About Racism" http://www.darkmatter101.org/site/2007/06/18/boxed-in-lets-forget-about-racism/ accessed 02/2011
Smith, R. 2005. Art in Review; Barkley Hendricks http://query.nytimes.com/gst/fullpage.html?res=9D0CE1DD1E3FF93BA15753C1A9639C8B63&ref=barkle y_l_hendricks accessed 01/2011
streetlevel07. 2009. Barkley L. Hendricks: Birth of the Cool – A documentary on the show 'Barkley L. Hendricks: Birth of the Cool' at the Nasher Museum of Art at Duke University. February 7th – July 13th 2008.
available at: http://www.youtube.com/watch?v=darxeJzn4WI accessed 11/2010
Strohkorb, J. 2001. Work of the Month: Slick, Self Portrait, 1977. Chrysler Museum of Art. http://www.chrysler.org/wom/wom0501.asp accessed 01/2011
Tate Britain. 2006. Collection Displays. John Singer Sargeant and the Swagger Portrait. http://www.tate.org.uk/servlet/CollectionDisplays?roomid=3712 accessed 10/2011
Traditional Fine Arts Organization. 2001. The Barkley L. Hendricks Experience http://www.tfaoi.com/aa/2aa/2aa533.htm accessed 11/2010
White, A. 2008. Barkley L. Hendricks' Nasher show: Art history, honored and challenged http://www.indyweek.com/indyweek/barkley-l-hendricks-nasher-show-art-history-honored-and-challenged/ accessed 11/2010
Whitechapel Gallery. 2010. Back to Black – Art, Cinema and the Racial Imaginary http://www.whitechapelgallery.org/exhibitions/passports-great-early-buys-from-the-british-council-collec- tion/back-to-black-art-cinema-and-the-racial-imaginary accessed 10/2010
Some links have, sadly, expired or been removed since the time of writing in 2011.