Art Supplies Haul May 2019 - what did I buy, what projects am I going to use them for, and were they worth it?
You can tell I'm back into the sculpture phase of my work. I tend to buy ahead of time and have my supplies sitting around for a bit, but with these purchases I decided I needed them right away.
More soap sculpture? Oh yes.
Since Use Him in 2013 I've been thinking about doing some smaller scale sculptures in soap, and it suddenly hit me that I had to get the right stuff in to have on hand for that time when I could jump right in to it.
This is definitely the stuff I need – 2kg cost me £13.45. It's going to look at me judgmentally from its spot on the shelf until it forces me to make the darned thing happen.

I found out (fairly late) about Composimold, a food-safe mould-making material that can be melted down and re-used up to 35 times.
This is great for the way I work, casting positives, then refining them and casting them again. I could have saved a lot of money last year if I'd have known about this! It cost £46.99 for 40oz.
However, it hasn't exactly been plain sailing with this Composimold – I got it badly wrong and my first mould was a disaster.
I hadn't counted on the water content of the material itself and left my paper model in it for way too long. Also, the melting point of the Composimold was too close to the wax in the model.
Next time.
Rasps
I happened to be in Aldi a lot back in May, so I was poised to find some great deals on their special buys.
When I saw a set of metal files for £5.99 I knew I had to have them to work on my next pewter casting – not having any rasps makes metal work very difficult!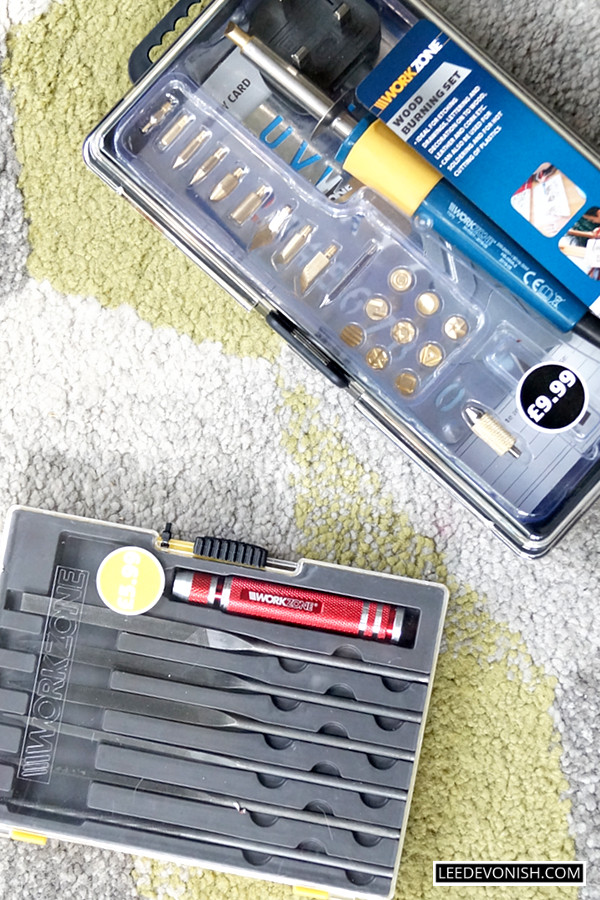 Pyrography kit
In the same trip I picked up a fantastic pyrography kit for the unbelievable price of £7.99.
Now pyrography as a craft isn't something I'm terribly interested in, but it's the potential applications of a hot branding tool that make it an essential for my current work.
I've been using it to model paper and wax sculpture – it's surprisingly good for shaping and burning away kraft paper layers, and I'm so glad I didn't leave it behind!
I'm very pleased with what I did manage to pick up over the month – now it's time to put these things to work.