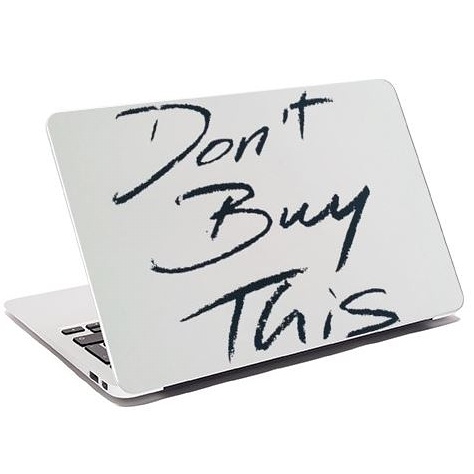 Perhaps the most exciting thing about using a print-on-demand service to distribute my work is seeing what it's applied to in actuality.
​I love that someone chose this for a laptop skin. I love the curious crossover of selling non-consumerist consumables.
I also like being ignored, it seems.
The simple message
Each one of us would take something different from a product like this, which is essentially a message. Too simple? Too convoluted? Recently, I've come to appreciate the quality of simplicity. Artists can tend to overstate the obvious out of fear of appearing to lack depth, but this often ends in a deep pool of artspeak.
I have little control over the actual product, but the fact that my message is applied to a product links me to it, or embeds me in it. Perhaps that's the purest form of a conceptual work of art – an idea that can embed the artist within anything.
You can see this design on other objects here, on Zippi.